The front panel is the first control element that the user comes into contact with. It is the interface of various types of HMI (Human Machine Interface) control panels, means man-operated devices. It is widely used in industry, but also in everyday use devices. Depending on the material used, it can also perform additional functions, e.g. be a load-bearing element, constitute a construction element or protect electronics from damage.
The panel consists of a graphic overlay and a supporting plate, which can be made of plastic, aluminum, steel or laminate. In order to fulfill its tasks, the panel shall be printed or engraved with descriptions of the switches or indicators functions.
Most often it has the form of a flat surface with buttons, switches, counters or knobs, and often with a display. To adapt it to a specific design and purpose, it is treated mechanically by milling, drilling or bonding. Fastening elements can be embedded also.
There are four materials most commonly used to produce front panels in our company. The choice of material depends on the functionality and customers' needs. Final selection is made individually.
PCB front panels
Printed Circuit Board contains a carrier layer and conductive layer – the advantage of this solution is simplicity, you can easily put all the elements, the keypads at the top, and the connector and other elements SMD or THT on the bottom. There should be as few electronic components as possible on the top side of the panel. As a result, the graphic overlay can be bond to the top of the printed circuit board in an easy and relatively inexpensive way.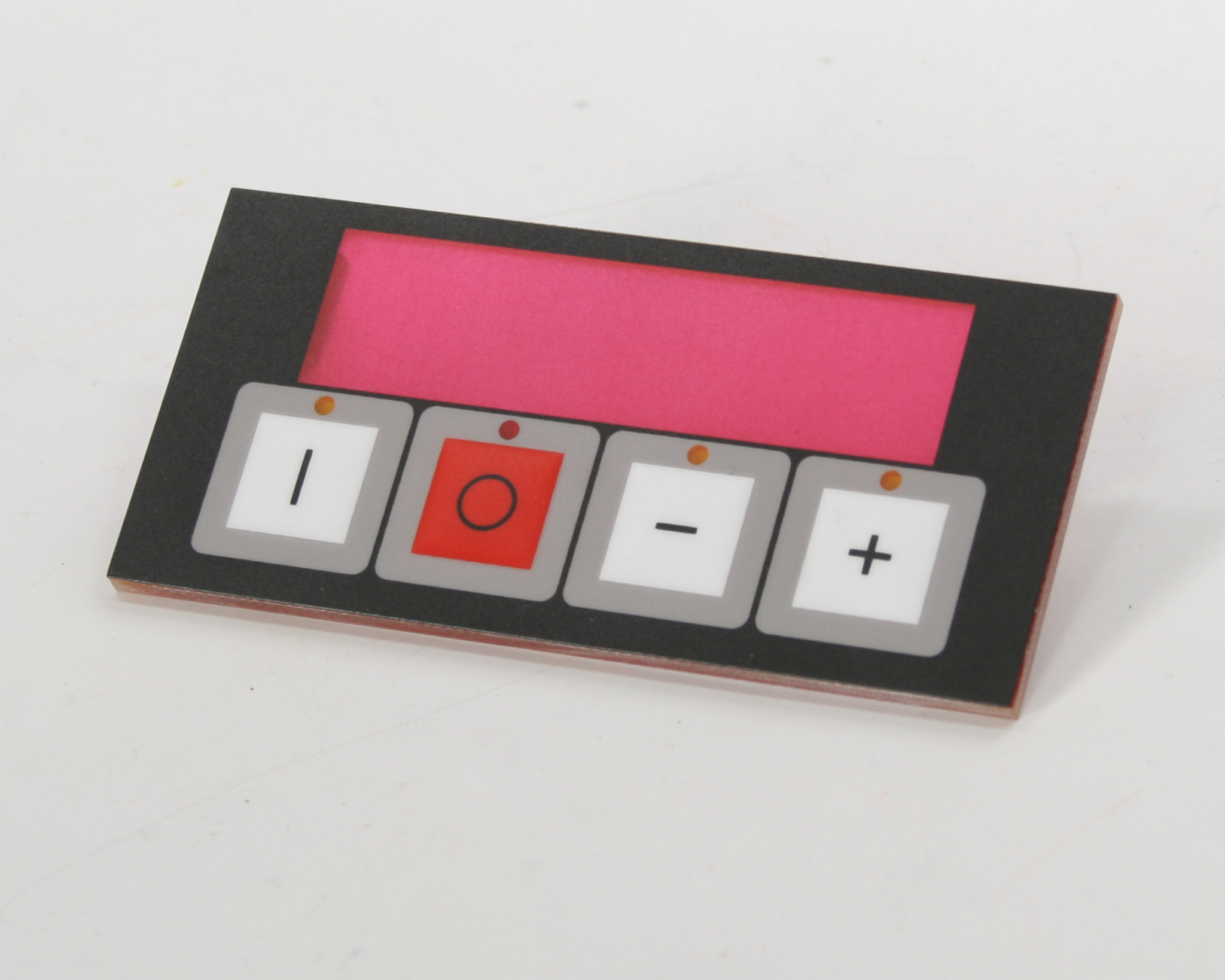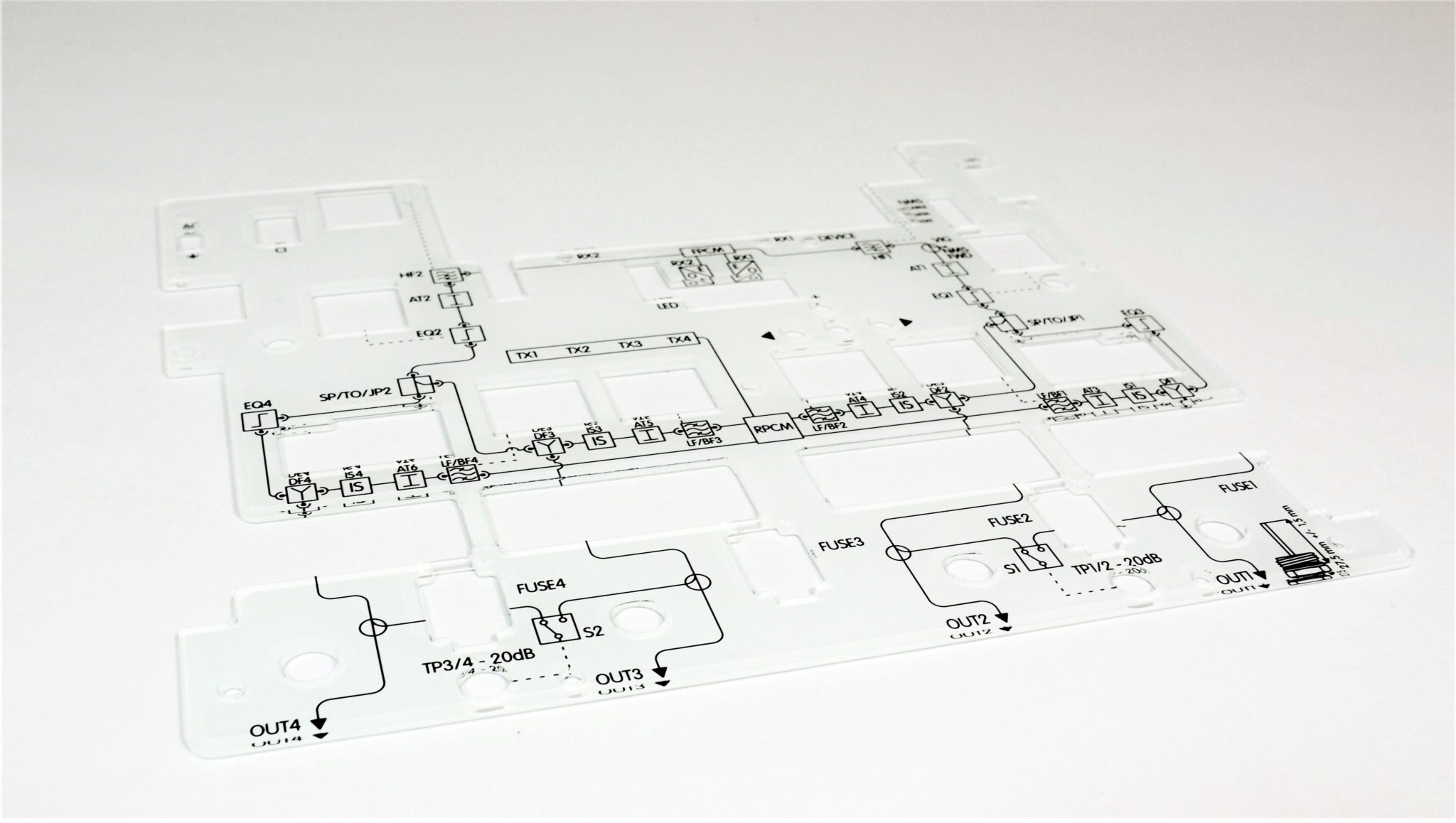 Plexiglass front panels
PMMA (Polymethyl methacrylate) also known as acrylic, acrylic glass or plexi  –  highly transparent thermoplastic material.  Stands out from other plastics due to its high light transmission, its extremely long service life and high resistance to UV light.
It is a very good and economical solution, giving many possibilities. The plexiglass can be printed from the bottom with the screen and digital method, which gives PMMA the function of a graphic overlay. So the panel is also great protection for the print.
Advantages of plexiglass panels
It is easy to process – it is possible to make holes in any way, cut it in any shape with our modern laser plotters.
PEM® pegs or sleeves can be easily inserted into a panel.
PMMA cutting is easier than cutting aluminum, not only because of the material characteristics but also because we do not have to match the plexiglass to the graphic overlay.
Plexiglass finishes:
– hardened – strengthened and lasting
– UV resistant – also more resistant to yellowing
– optically clean – important when mounting the display window.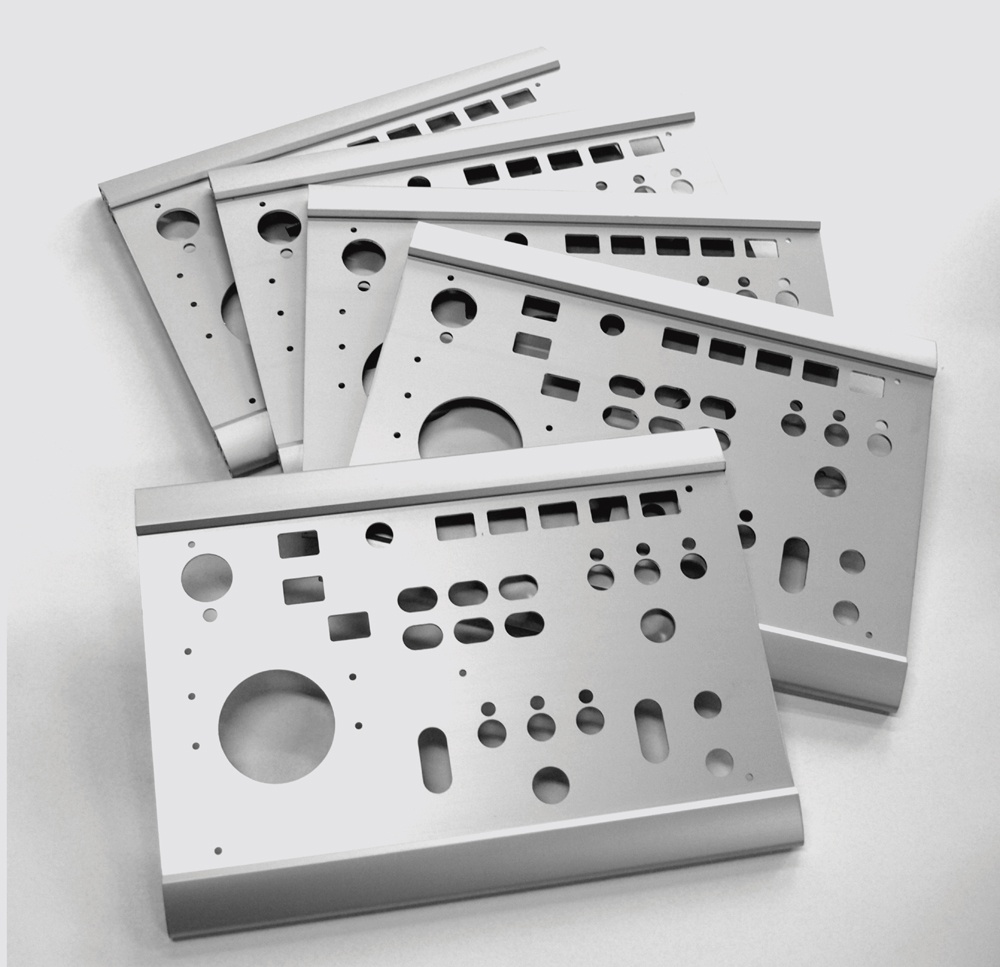 Aluminum front panels
This solution is for customers, who are looking for solid and durable solutions. The aluminum plate is very tough, it can also be thinner than plexiglass. Due to strength and hardness, aluminum can also be a structural element
Advantages of aluminum panels
The natural consequence of using this material is protection against EMI/RFI electromagnetic waves.
An additional advantage is that the studs and sleeves are pressed pneumatically from the front side. In our factory we have a stand for welding the pins, which makes it possible to easily assemble the elements so that they are not visible after the operation.
In our production we use 5754 aluminum alloys (PA11). Aluminum of this class is distinguished by high impact value, medium tensile strength, high resistance to corrosion, as well as easy to weld and anodic.
The use of aluminum allows us to make bends and more precise shapes.
The machining process can consist of several stages, therefore more time-consuming.
These stages of the machining process:
We order the panel from a reliable supplier who has previously designed holes and bends using a laser, plasma or water machine.
When panel returns to LC Elektronik, we start further processing. We can realize the following services: precise milling, engraving, make holes, mill to match the hollow for a particular keypad, and pressing or welding the studs.
Depending on the needs and requirements of the customer, we provide such a prepared panel for a proven powder coating shop (it is important to secure the pins and sleeves against dirt) or order the anodizing.
Later our subcontractor makes the glass blasting operation, which means further processing of the material. Glass blasting is a technological process, very similar to sandblasting, but giving a much better effect here. Thanks to the use of glass beads, the surface is not ragged and smooth. This process is very important and thanks to it the layer of excess aluminum oxide (produced after the initial treatment) is removed.
Then the tile is subjected to a wire brushing process. The surface is properly finished – it is polished, unified and free of discoloration.
At the end of the treatment, the aluminum is being anodized – means processing of aluminum consisting in the production of an oxide layer by an electrolytic bath. The oxide layer has a protective and insulating function.
When so prepared plate returns to the LC Elektronik it is printed (by screen printing or digital printing) and other elements are mounted, e.g. a keypad.
After the quality control, the plate is ready.
Polycarbonate
PC is the material with excellent mechanical properties, characterized by high resistance to cracking and transparency, like plexiglass. However, polycarbonate is much more durable, and its resistance and hardness are more similar to aluminum, but this material is more expensive. Processing a PC with a laser is a sophisticated operation, to cut this material you need to use more laser power, which can cause blackening and yellowing of the of material edges. Another option is machining, which is combined, for example, with the lack of sharp corners after cutting the holes.
LC Elektronik manufactures front panels for various types of electronic devices, for various purposes and properties. Therefore, the choice of material depends on the customer's preferences and needs.
We stand out not only with precision, accuracy and experience, but also offer a comprehensive service.
You can order in our facility:
– project
– machining – milling, bending, cutting, printing
– production of graphic overlays
– assembly of keypads and other elements.
Sample photos of front panels
Our consultants will answer your questions and advise the best solutions