Connection of the keypad with control electronics
There are many ways to combine the keypads with the control electronics. The choice depends on the materials used, technical conditions and customer expectations. At LC Elektronik we rely on the following proven solutions.
Connectors for membrane keypads
Membrane keypads consist of many layers of film, with different properties and functions. The layer on which the paths and the contact pad are printed is a circuit layer, usually a polyester film. The most common connection solution is a flat, polyester connecting tail, which is an integral part of the circuit layer with marked conductive paths with a terminal end suitable for the assembly of the joint. Used to connect keys, SMD diodes, shielding with control electronics. We distinguish two types:
Flex connection with paths based on silver colloids
This is a series of conductive paths printed on the circuit layer by screen printing with silver pastes. The shape, number or thickness of paths can be any. Silver printing on the polyester reduces the density of the raster on the connection tail to a maximum of 1 mm. Pitch from 1 mm to 2.54 mm.
Recommended solutions:
Hi-Flex Female Contact Crimpflex type
ZIF and Non-ZIF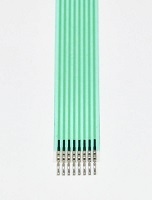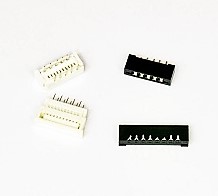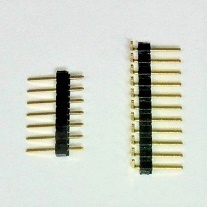 Circuit with an integral flat Cu-Flex connection tail with copper-based paths
These are flat strips of galvanically protected copper . This solution enables the use of a much denser grid of paths on the connection tail, thanks to the etching technique.
length of the connection tail usually up to 200 mm

pitch from 5 mm to 2,54 mm
Recommended solutions:
ZIF and Non-ZIF
In both cases, you can extend the tail with bundle of cables using DWFC
(discrete wire to flat cable) technology.
Connectors for PCB-based keypads – printed circuit board
In the construction of PCB-based keypads, the circuit layer has been replaced by a printed circuit board, on which a gold-plated metal membrane, which is a switching element, is mounted on one side.
This keypad's construction requires the use of connecting cables mounted to the printed circuit board. The cable length is virtually unlimited.
Ways of assembling electronic components on PCBs:
THT type (Through Hole Reflow) – through-hole assembly, where the leads of the electronic components are threaded through the holes in the PCB and are further soldered to the conductive tracks on the opposite side of the plate than the element being assembled.
SMT type (Surface Mount Technology) – surface mounting, where soldering pads are on the same side as the electronic component being fastened.
Recommended solutions:
Wires directly soldered to PCBs

ZIF connectors and WR-FFC (Flat Flexible Cable)

Ribbon cables with IDC MiniModule WR-MM connector on both ends

Bundle of cables with Autocom WR-WTB connector on both ends.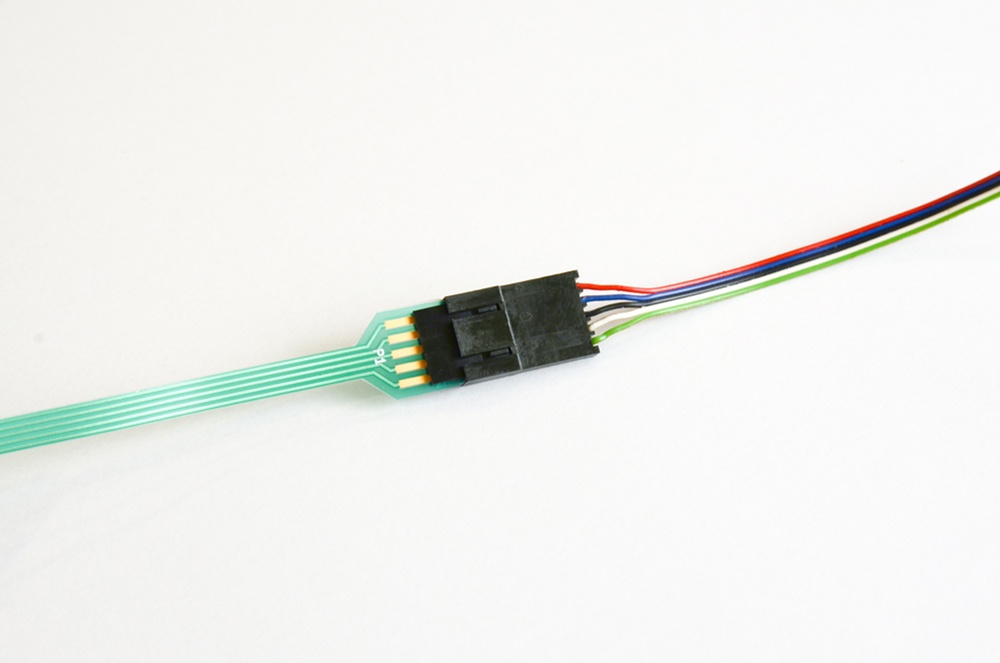 The choice of flex connection and connectors, cables and technologies depend on the individual needs of the customer. Each project is prepared for special order.
Our technical support will answer all your questions.
Make your production and modification
with LC Elektronik
Here you can buy professional enclosures for your equipment.
You will adapt your casings to your needs and give them an individual character with us.
Engraving, printing and milling on housings – we will do it for you.
We also design and manufacture keypads, graphic overlays, display windows and front panels.
All in one place with one supplier and manufacturer.
Do not waste time or money, design and manufacture your device
or operator panel in LC Elektronik.