In PCB and Cu-Flex keypad's construction, flexible or rigid printed circuit board (PCB) is base.
What is the Cu-Flex and PCB?
The printed circuit board (PCB) consists of an insulating material on which paths and solder pads are located. It is made with an etching technique. Glass-epoxy laminate or a composite material are coated with copper.  Electrical connections are printed and then further processed. The structure can consist of one, two or more layers. The components are assembled on the PCB in two ways: THT (through hole technology) or SMT (surface mount technology). The plate can be the keypad's back panel at the same time.
The flexible printed circuit (Cu-Flex) is made of a dielectric material, usually a polyimide or polyester film, on which electroplated copper conductive tracks are printed, insulated on both sides. The flexibility of the circuit depends on the material used and the number of layers. Thickness usually oscillates between 12 and 125 μm. The thicker the circumference, the stiffer it is, which affects the smaller deformation.
The advantage of Cu-Flex is its small thickness, easy adaptation of the tile to the shape of the enclosure.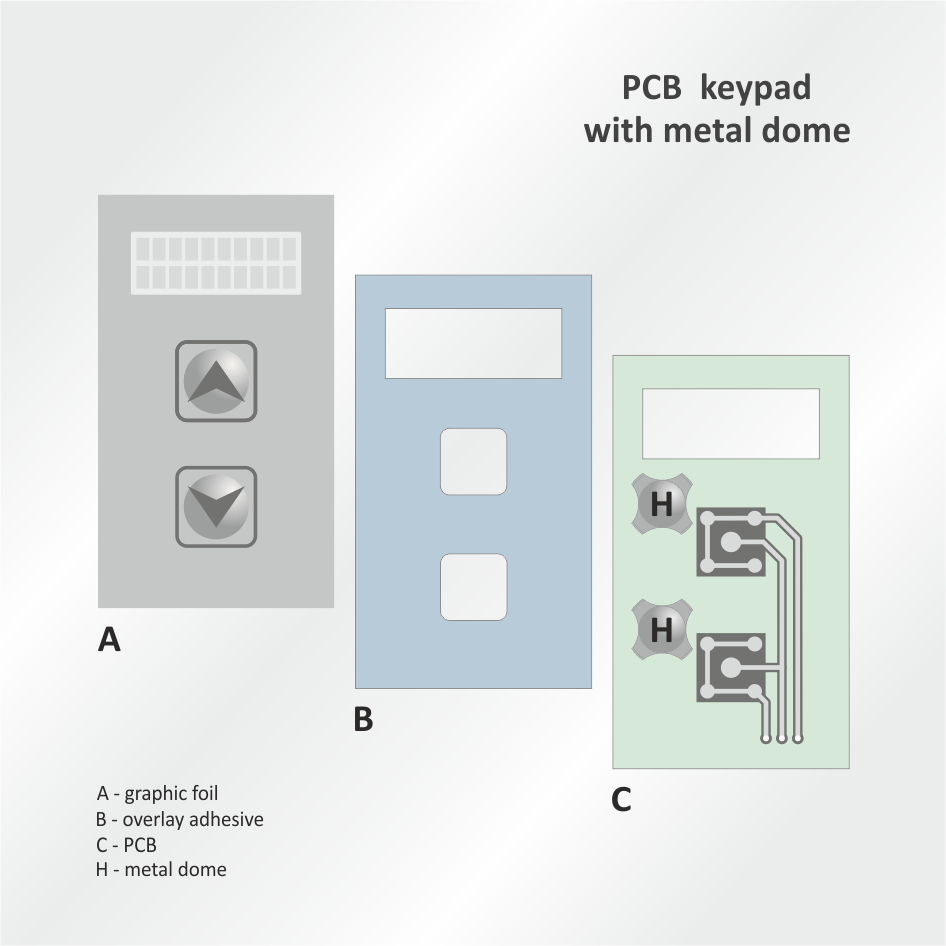 What distinguishes printed circuit keypads?
The use of a printed circuit in the construction of the keypad allows placing beside contact fields and other electronic components. Additionally, there is a possibility of making gilding of contact elements and the use of gold domes, which allows to significantly improve the quality and reliability of the keypad. This solution is recommended for keypads that work in extremely difficult conditions.
Application
The printed circuit keypads find a wide application among electronic devices, in the telecommunications, medical, military, IT and usable equipment sectors.
Exemplary pictures of PCB & Cu-Flex keypad
Exemplary construction of PCB keypad

embossed keypad with a metal dome on the PCB
Technical information about PCB and Cu-Flex keypads
Printed circuit
Rigid / PCB
Flexible / CU-flex
Supporting material
glass-epoxy laminate or composite material
polyimide or polyester
Paths material
copper
Gold plating
yes
SMD elements:
LED
connectors
other electronic components
yes
yes
yes
Plug in bag
yes
Number of layers
single-, double-, multiple-layer
1-50
Number, shape, thickness of paths
 
any
Minimum distance between paths
 
0,076 mm
Type of laminate
 
– single sided
– double sided
Type of front
– graphic overlay
– silicon cover
Keys
– flat
– pressed
– with metal domes
Windows shielding
yes
Electromagnetic protection of display windows
yes
Backlighting
LED
one-colored and two-colored
Holes
– any number
– any shape
– through
Surface finishing
– glossy
– antiglare
– hard coated
Windows for LED elements
– transparent
– colored filters
Connectors
– wires directly soldered to PCBs, 2,54 mm pitch
– ZIF connectors and WR-FFC, 1 mm, 0,5 mm pitch
– ribbon cables with IDC MiniModule, pseudo 1,27 mm pitch system
– bundle of cables with Autocom WR-WTB, 2,54 mm pitch

– ZIF or Non-ZIF, from 0,5 to 2,54 mm pitch

– possibility of extension the tail by DWFC technology
Design
Color
any
Shape
any
Print
– screen printing
– digital print
Order keypads based on PCB or Cu-Flex
Contact with our technical support