Called also the foil keypad – consisted of many layers of films, with different properties and functions, combined with adhesive overlays.
The basic elements of the membrane keypad are:
Graphic overlay – is the first layer covering the keypad on the outside. It is responsible not only for protection but also for attractive design. It is printed from the inside. The graphical possibilities are almost limitless here. The film can be made of polycarbonate or polyester. In our practice, polyester films are much more effective, because they are more flexible and resistant to external factors. We recommend them in particular for more demanding and professional applications. The first layer can be subjected to additional processing, e.g. make stamping or print with structural lacquers. Depending on the varnish used, we can give the keypads appropriate texture: glossy, antiglare or hard coated.
Circuit layer – a key layer for keypad operation is a polyester film, on which the paths and contact pads are printed. The circuit layer can also be stamped to form polyester membranes, i.e. the element which gives the impression of being clicked when pressed,
Spacers and adhesive layer – adhesives which are double-sided self-adhesive polyester films covered with a layer of acrylic adhesive. They are used for gluing different films and circuit layer together, also for the keypad to the enclosure or supporting plate mounting.
Metal domes  – specially formed metal switching elements, mounted into a silver circuit. With pressing and "click" they cause short-circuit and switching given function.
Additional elements may be for example SMD LEDs.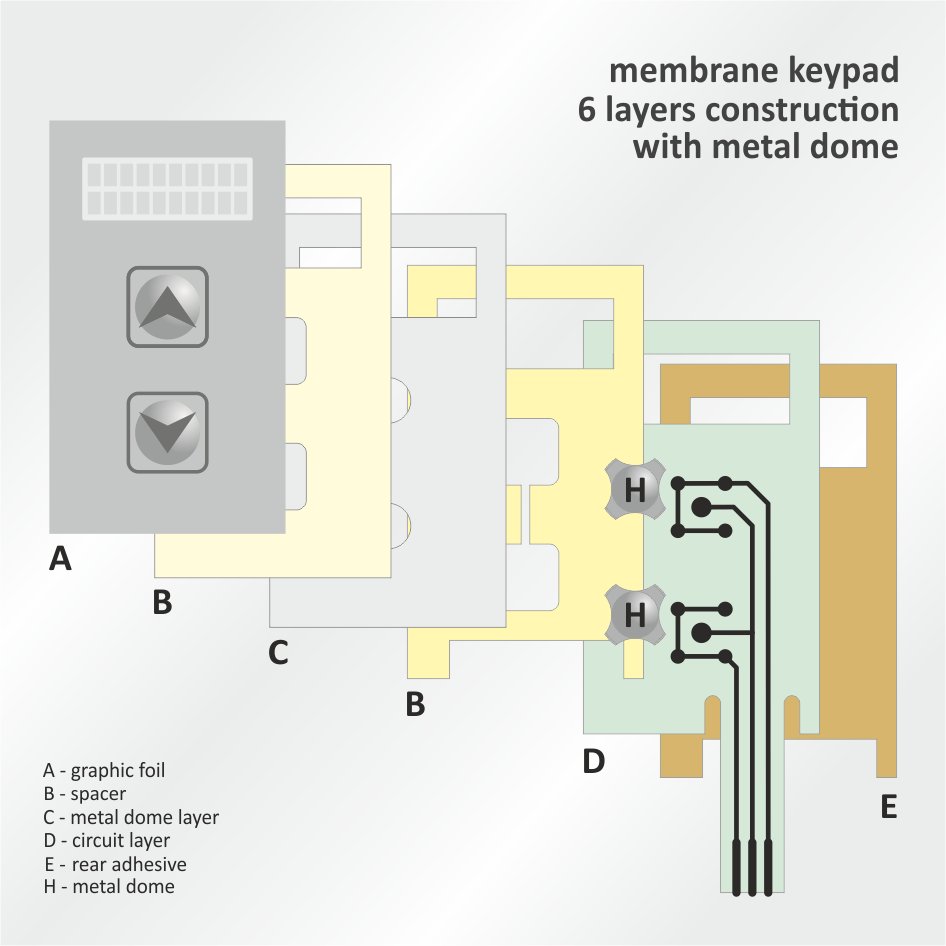 Advantages
– many design possibilities (customization)
– aesthetics
– durability
– resistance to external factors: atmospheric, chemical and mechanical
– low price in large series
– extremely thin construction.
Membrane keypad application
The membrane keypads are widely used in both domestic and industrial devices, e.g. in control and measurement equipment, in control systems as well as in the military, medical and automotive industries.
Design and production technology offers many possibilities and different properties.


spherically embossed  keypad

embossed keypad with SMD LED

embossed keypad with laminated window

embossed keypad with a plug in bag for descriptions

embossed keypad with polyester dome

flat embossed keypad with a metal dome

frame embossed keypad with a metal dome

embossed keypad with metal dome and SMD LED

embossed keypad with touch panel

embossed keypad with window`s shielding
spherically embossed keypad with EMI / RFI
Exemplary membrane keypads
Technical information
Graphic overlay material

modified, heat stabilized polyester or

polycarbonate foils

Paths and contact pads material
silver based inks
Number, shape, thickness of paths
any

Connection, flexible connecting tail:

– Crimpflex connector in pitch 2.54 mm

– tail end prepared for ZIF or non-ZIF

connector in pitches 2.54, 1.25, 1.00 mm

– possibility of extension the tail by DWFC technology

IP

IP65 (front)
UV resistance

yes * – in moderate conditions of our climate zone

* In the conditions of strong UV radiation, we recommend making a prototype

Contact resistance

<0,06 ohm/square – depends on conductive

path geometry

Operating current
recommended to 20mA
Operating voltage
recommended to 24V
Power rating
max. 1W
Life cycle
min. 1 million activations

Operating temperature range

of keypad/nameplate

embossed: 0°C to +45°C

flat: -20°C to +70°C

Storage temperature range

of keypad/nameplate

embossed: -20°C to +45°C

flat: -30°C to +70°C

Keys

– flat

– pressed

– with metal membranes

Window shielding
yes
Electromagnetic protection of displays
yes
Backlighting
LED
one-colored and two-colored
Holes

– any number

– any shape

– out or in a different way

Surface finish

– glossy

– antiglare

– hard coated

Windows for LED elements

– transparent

– colored filters
Design
Color
any
Shape
any
Print

– screen printing

– digital print
TABLE OF POPULAR REAGENTS WHICH MEMBRANE KEYPADS AND FRONT FOILS SURFACE ARE RESISTANT TO
REAGENT
POLYESTER
POLYCARBONATE
 
1 hour
24 hours
1 hour
24 hours
Methyl ethyl ketone

+

+

Cyclohexanone

+

+

Acetone

+

+

Ethanol

+

+
+

+

Tricloroethanol

+

+

Tricloroethylene

+

+

Petrol

+

+
+

+

Diesel Oil

+

+
+

+
Thanks to our many years of experience and knowledge, they are constructed in such a way that they ensure trouble-free operation.
All keypads are made in 6W technology, with using 6 layers. This technology and proper chose construction makes our products work for many years, even in tough climatic conditions.
Installation instructions for the membrane keypad
Order the membran keypads
Contact with our technical support