The rubber keypad is manufactured in the process of high-temperature vulcanization of silicone.
Types of construction
In the construction of silicone keypads we can make a division (get the contact) due to the conductive element.
We distinguish three types of construction:
A printed conductive paste containing contact areas on the conductive circuit. It is possible to make any shape of the plane that contains the contact.
A vulcanized conductive element containing contact areas on the conducting circumference. Only standard shapes available.
A metal plate or switch mounted on a conductive circuit, where the rubber keypad is
a pusher.
Thanks to its properties and processing capabilities, silicone is an excellent material for general use applications.
A wide range of silicone and print colors, according to the RAL palette, gives us great opportunities to create a perfectly personalized product.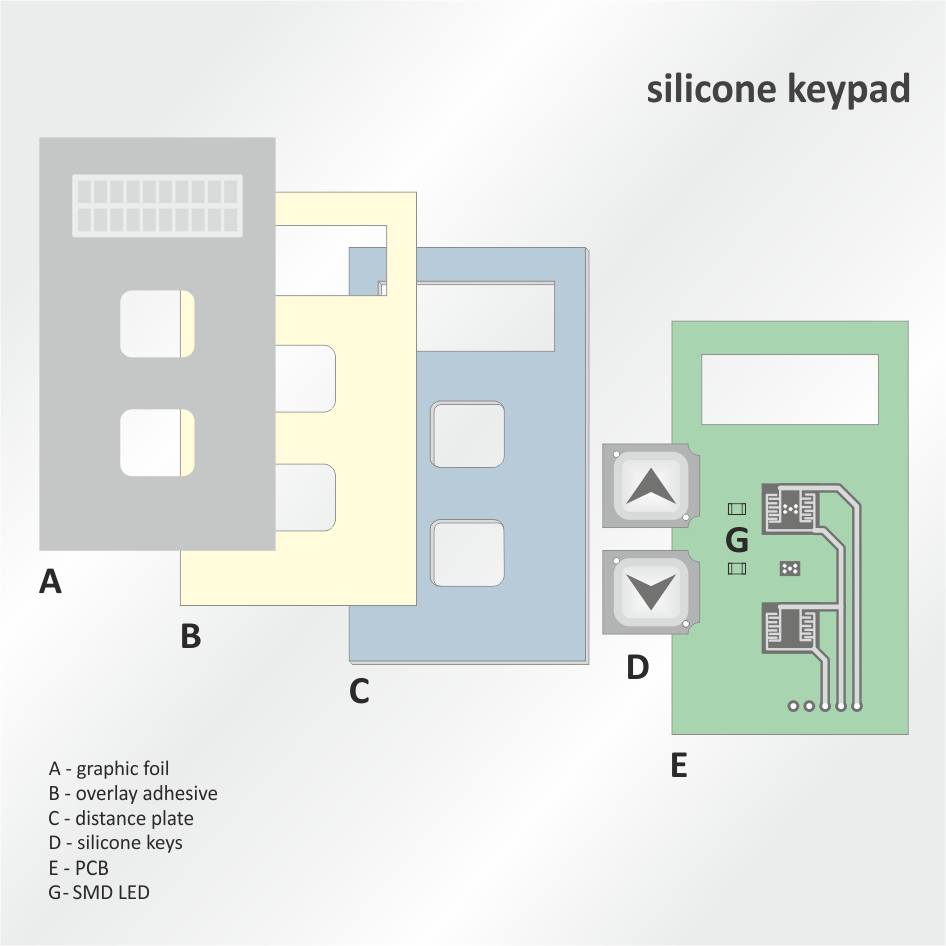 Additional protection
In the rubber keypad, by surface spraying with PU varnish, an increase in abrasion resistance is obtained. In addition, you can increase the visual qualities of the keypad by pouring epoxy resin drops on the surface.
Backlighting
It is possible to use a silicone with the properties of transmitting light with a light source placed on the conductive circuit, then we obtain the effect of the entire surface of the silicone lighting. The effect that pictograms only shine we can obtain by surface sputtering of the keypad surface with covering paints and then laser engraving of pictograms.
Advantages of the rubber keypads:
comfort of use
greater possibility of differentiation of pressure force and keys travel in comparison with membrane keypads
easy to keep clean
resistance to mechanical damage
durability
backlighting
larger packing of keys on the surface compared to a membrane keypad
relatively low production costs.
Example constructions of rubber keypads

keypad with silicone cover

Basic properties of the rubber keypads
Color
based on the RAL palette,
the ability to combine the colors of silicones in the area of the keypad
The shape and size of the keypad
any
The shape of the contact of conductive carbon resin, preferred size

conductive rings in the technology of backlit keypads
outer diameter of the 6 mm disc; inner diameter of the 4mm disc
 outer diameter of the 8 mm disc; inner diameter of the 4mm disc
conductive disks of sizes: diameters 3 mm, 3.5 mm, 4 mm, 5.5 mm, 6 mm

Keypad construction

based on a printed conductive paste
based on a vulcanized conductive element
using metal plate or switch mounted on a conductive circuit

Key travel (jump), preferred values
0,8 mm, 1 mm, 1,2 mm, 1,5 mm
Print
any, based on the RAL palette
the number of printing colors can be any
Pressure, preferred values
100 gr
120 gr
150 gr
180 gr
200 gr
 Key surface finishing

PU varnish
a drop of epoxy resin, poured only on a flat surface

Vulcanization of keypad components
silicones of different hardness and colors
Life cycle
min. 1 million
Hardness
55° +/-5°
Surface laser engraving
yes
Backlighting of the keypad descriptions
spraying by coating inks on the entire face of the keypad, for use in engraving pictograms
Order the silicone rubber keypad
Call our technical consultant